Are you and your family visiting Kiawah Island or Seabrook Island this summer? Would you love an extra special memento to remind you of your visit? You should consider family beach portraits.
Years ago when our children were younger, we had family beach portraits taken. It was amazing how the photographer, whom we'd never met before our appointment, was able to capture the essence of our children.
Last summer I knew it was time for an updated family beach portrait. Our older daughter was heading off to college. Perhaps it would be our last summer vacation as a family (Moms worry about these things!)?
I contacted Judy Percival of
JP Photography
, Kiawah Island, SC, about photographing our family on Seabrook Island. Judy was a delight to work with even in the sandstorm conditions we had the evening of our photo shoot. How she was able to get such great shoots of our family with wind and sand blowing is still a mystery to me.
Here's a sample of our family beach portraits: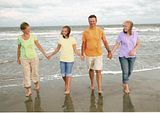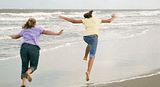 Do consider a family beach portraits photographer for your next beach vacation. You'll have a keepsake of all the fun you had at the beach.
And, yes, our college aged daughter will be back at the beach house with her family this summer!