A recent guest of
Our Great Escape at Seabrook Island, SC
reported going to Rosebank Farms every single day of her visit to Seabrook. WOW! That's a lot of trips to the farm but I can certainly understand her enthusiasm. My teenagers insist on visiting
Rosebank
every time we vacation in the Lowcountry.
So what is Rosebank Farms and what makes it so special? Rosebank Farms is one of the last family owned and operated farms on John's Island. Here you'll find locally grown fresh produce and flowers for sale. And, don't miss the fresh shrimp caught daily by local shrimpers!
Kids, young and old, will delight in the menagerie of animals--some traditional farm animals, some not. My kids are especially fond of the rabbits (baby bunnies are the cutest, aren't they?) and the stair-climbing goats.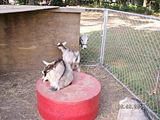 So, back to the guest. When I asked why she kept going back to Rosebank she said, "Crab cakes, key lime pie, and the most delicious tomato pie."
Guess what's on my list to buy the next trip to Rosebank? Tomato Pie!
Click here
to see what else is available at Rosebank Farms.